About Jewell
After spending nearly 20 years working overseas and having herself greatly benefited from the Rolf Method of Structural Integration, Jewell returned to the USA in 2009 with the vision of becoming a practitioner herself. She anticipates spending the rest of her life helping others to heal and transform through this remarkable process.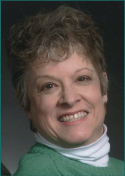 Jewell completed her training at and was certified by the Guild for Structural Integration in Boulder, Colorado in March of 2011. This included 1,058 hours in anatomy and physiology, as well as the theory, fundamental principles and practice of the Rolf Method of Structural Integration, and extensive clinical work under direct supervision. She also completed 630 hours of training in therapeutic massage and graduated from Central Maryland School of Massage  in April of 2012. She has seen amazing changes in her clients — ages seven to ninety-five — over the last ten years as a result of her work using the Rolf method!
She is licensed in massage therapy in Colorado, is nationally certified in therapeutic massage by the National Certification Board for Therapeutic Massage and Bodywork , and is a member of the Associated Bodywork and Massage Professionals.